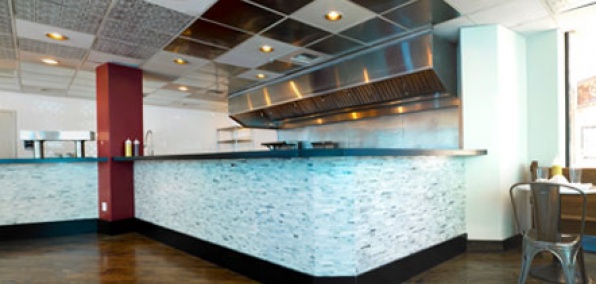 Not that we're encouraging anyone to challenge Joey Chestnut to a hot dog eating contest.
But if someone happened to show interest in inhaling 68 hot dogs in 10 minutes—or just one at a leisurely pace—we know where we'd send them…
Introducing
Showdogs
, the latest frankfurter emporium and one-stop hot dog joint, dishing out upscale, all-natural links and 10 different local brews, opening Thursday on Market across from the Golden Gate Theater.
Brought to you by the folks from Foreign Cinema, this corner spot will be your post-work or pre-show destination for when you're looking for a classed-up franks-and-beer combo.
While you've seen hot dogs
popping up on menus
at various restaurants around town, you'll note that Showdogs' entire menu is dedicated to the dog—with about a dozen selections on any given day. And lest you think you're going to get just any dog, you'll pick from a range of Bay Area star hot dog makers like
Let's Be Frank
, Golden Gate Meat Co. and 4505 Meats.
Settle into one of the 200-year-old church pew banquettes and bite into Fatted Calf's wild boar dog tucked into a custom Acme bun dotted with sesame seeds. Or spice things up with a chicken andouille sausage paired with Anderson Valley Amber Ale.
If you're feeling really decadent, the beer-battered 4505 Meats all-beef corndog is the way to go.
If you're only having one…