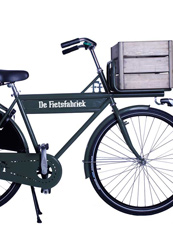 Any bike can get you from here to there this weekend.
What you need is one that can do it with an ice-cold keg of beer on the handlebars.
After much searching, we've finally found a ride for your heavy-duty needs: Head to
De Fietsfabriek USA
, an Old Town dealer of imported custom bicycles that will give your old SUV a run for its cargo space.
De Fietsfabriek—which means "The Bike Factory" in Dutch—was started by two enterprising guys in Amsterdam who figured if they were going to entice you to give up four wheels for two, they better figure out how to replace some of your car's amenities. Naturally, they started with the trunk.
So while their bikes offer classic, vintage Euro styling (think hard-top Bentleys), they also have sturdy, steel-framed bodies capable of handling your more utilitarian needs. Say you're heading to the wine shop before your next dinner party. Try the
Aty
, with a sturdy box mounted on the front that's more than adequate to accommodate an entire case of vino. If you're taking a keg to a friend's cookout, the
Filibus
, with its wider storage and reinforced wheels, will get the job done.
And after the party, who knows what you'll be bringing home with you.