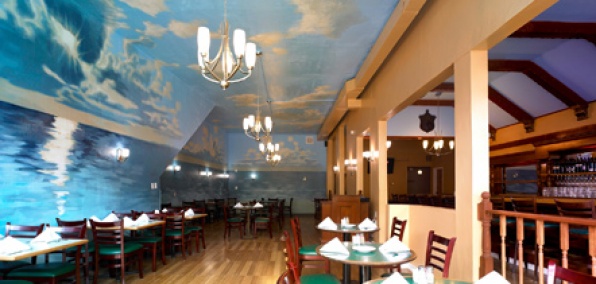 There are times to go all out, and then other times when it's good to keep things low key.

So after a few nights of unchecked Fourth of July revelry at Boulevard-caliber restaurants, you'll want to pay a visit to Jannah, a new, casual Mosul-meets-San Francisco eatery brought to you by Iraqi-born chef Yahya Salih, opening north of the Panhandle tomorrow.

Jannah, which translates as heaven or paradise in Arabic, marks Salih's return to the city—following a yearlong stint in Burlingame after twenty years of bringing his time-honored family recipes to San Francisco (most recently at Yaya Cuisine). For you, this means that his Fesenjoon (pomegranate molasses-marinated chicken) and spiced-up beef Biriani are yours to feast on once again.

Even if you remember the space as the old karaoke bar (or an old brothel if you're really in the know), you won't recognize it, thanks to the freshly painted, floor-to-ceiling sea-and-sky murals that are more island getaway than seedy nightclub.

If you're in the mood to try something you can't find anywhere else in the city, opt for Yahya's Dolmas—instead of rice wrapped in grape leaves, his are lamb-and-eggplant-filled, then wrapped in Swiss chard. And then there's the garbanzo-crust Safeehat Falafel that's like a Middle Eastern version of pizza.

What's Arabic for "hold the anchovies"?