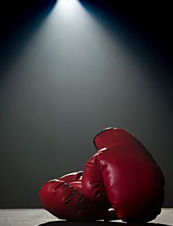 Sooner or later it's going to happen. You're going to pop off and take a swing at someone.
And it's going to feel pretty great. 
Wait, let's back up: It's going to feel great if you're at
LA Boxing
, a new gym soft open in Lakeview. (If you're in the office, well, let's just say HR might get kind of touchy about it.)
It's the first city location of a Los Angeles-based gym franchise that can help you channel your frustration with the world into one killer core-strengthening workout.
You'll swagger in, the veins in your neck throbbing—feeding the meter will do that to you these days—and pick the best way to release the rage. You could warm up on the treadmill or with one of the old-fashioned iron kettlebells, but soon those 30 heavy bags swaying in the corner will practically beg you to go
mano a mano
.
And in case you haven't been in a fight since grade school, you can bone up with classes from basic boxing to kickboxing, jujitsu or Muay Thai— with pro and amateur fighters instructing you every punch, kick or elbow along the way. When a bag isn't going to cut it, sign up for some personal coaching and spar in the Olympic-sized ring.
Because remember, there's no problem that a good roundhouse kick can't solve.