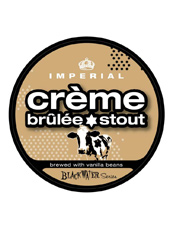 In these times, finding ways to streamline is of crucial importance.
You replaced bottle service with
keg service
, you're now summering
and
wintering on your Aegean-docked superyacht, and you grew out a mullet that's business in the front, party in the back.
But nowhere is streamlining more important than in the area of seduction.
For those strategic moments, allow us to introduce
Crème Brûlée Imperial Milk Stout
, your new liquid dessert, now available at the Whole Foods Beer Room.
First off, get the notion that this stuff is some sort of lightweight frou frou beer out of your mind: it packs a worthy 10 percent alcohol by volume (that's a point or two higher than your Riesling, more than double your Guinness and a smidge lower than your go-to Barolo). Which means it's sweet (be warned: really sweet), but powerful (sort of like your date). As for when it hits your lips, you'll taste more cream soda with a sting than crème brulée in a bottle.
The prescribed usage: You'll want to pick up a few 22-ounce bottles to have on hand as the perfect post-dinner nightcap/conversation piece that will successfully cement your reputation as "deliverer of sweetness." Or thoughtfully drop by her place with "dessert" one night. Just make sure you keep some regular beer around for your more gentlemanly beer drinking sessions.
You know, like Mondays, Tuesdays, Wednesdays…