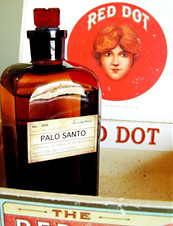 You're three old-fashioneds deep, one cigar in and the redhead at the end of the bar is picking up what you're putting down.
You know, another Saturday night. If only you could bottle that moment…
Welcome to the
Portland General Store
, an online smell factory from Maine working overtime to put the sweet scents of masculine excess into bottle form for your self-dousing pleasure, open now.
In other words, it's rough and tumble, guy-behind-the-guy and I'm-scared-but-intrigued, all in cologne form—and without the pesky smoker's cough and a hangover. Just head to the online shop, filter through the selection of soaps, scents and lotions, and before you know it you'll be lathering up for your morning shave with tobacco-and-leather-scented shave jelly, topping it off with a healthy splash of whiskey aftershave balm and arrive at work with the confident aroma of a man who came straight from the bar (and doesn't give a damn who notices).
And like a finely aged bottle of scotch, the goods are all produced with recipes dating back to the '20s and '30s (meaning they pack more of a kick than anything you could pick up at a department store). If you're in for a sampling, we recommend the variety pack, which bundles together sample sizes of the shop's flagship items in (of course) a cigar box.
Sadly, the smell of last call remains too elusive to be bottled.