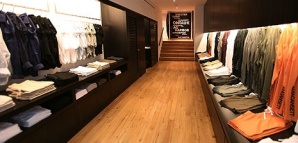 Just because you're opting for casual threads doesn't mean you have to settle for a look that suggests intramural softball.

Which is why we like what we've seen from the James Perse men's store, officially opening today in the West Village.

The designer's first male-only shop, James Perse does sartorial basics with an upscale, beach house slant. (Think Ocean Pacific...only newer, classier and hip.) The son of Tommy Perse, owner of the high fashion L.A. boutique Maxfield, James weaves that relaxed California vibe into all his lightweight, subtly colored clothes, from the cotton lawn button downs and five pocket slacks to the drawstring khakis and soft-as-butter long-sleeve t-shirts (which drop the names of myriad Long Island vacation spots, thus strengthening your New York beach cred). The split-level space is equally West Coast fresh: The wood floor is reclaimed, a surfboard decorates the upper level, and the dark wood dressing room doors are slatted like ones you'd find in a pool house.

And speaking of water, the Perse shop also carries board shorts that we think you'll find surprisingly restrained (read: Hawaiian print-free). They might just be the perfect addition to your beach party wardrobe—and all the reason you need to finally discard those mesh shorts with your college's nickname on the rear.

Or at least put them in storage...