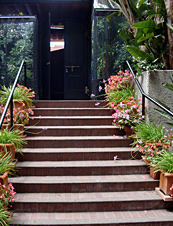 You're good at many things, but keeping secrets isn't one of those things. We have that in common with you.
So when a restaurant once called Hidden gets replaced—and catches the attention of one of our city's most esteemed chefs in the process—we're here to discuss.
Caché
opens Friday in the depths of a Santa Monica courtyard.
The covert entrance remains the same—a few steps up into a brick-heavy courtyard off Main Street, and a vague sense of confusion as you seek the place out, all the way in the back. But once inside the sprawling indoor-outdoor space—right, there it is—you'll notice some…changes. Some mahogany. Some concrete. An airier, more opened-up feel. And also, not 47 cuisines shoehorned into one menu. (Just saying.)
Now overseen by endlessly awarded Mélisse chef Josiah Citrin, the menu is focused on the modern, the seasonal and that which can be dumped into Mason jars. If you just came by for a few cocktails and the lounge menu, you'll be sampling
Foie Gras Parfait
or
Smoked Salmon Potato Salad
served in the same containers as grandma's jam. But for a proper dinner, there are piled-high plates of
Wood-Fried Calamari
or
Hanger Steak With Maui Onion Rings
.
The world may not yet be ready for steak in a jar.