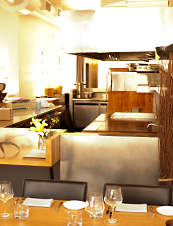 We've missed the word "maverick."
But we really didn't have a reason to bring it back until now.
Say hello to star molecular gastronomist/chef/owner James Syhabout (Manresa, Coi and PlumpJack Cafe), about to shake up the stuffy, hippie, organic food movement with
Commis
, open now in Oakland.
Don't expect to walk in and see James looking like a mad scientist in the kitchen, manning a thermocirculator over foaming beakers (the restaurant borders Berkeley, after all). But when you sit down in Commis's 30-seat eatery, you'll soon feel as if you're at an intimate yet slightly crazy East Bay friend's dinner party (if your friend knew how to wield dry ice).
Since they don't save seats for walk-ins, you'll want to make reservations ahead of time—perhaps for the counter overlooking the open kitchen—and prepare yourself for a three-course extravaganza (you can mix and match your selections). The menu changes per Syhabout's—or one of his WD-50 alum sous chef's—whims, but look for savory bites like the
Crisp Pork Jowl With Black Garlic on a Poached Egg
or
Pasture-Raised Chicken With Golden Rice Cooked in Malted Ale
.
Otherwise known as drunken rice.