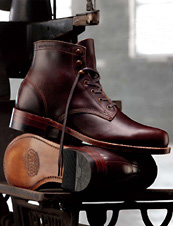 Back in the day, everything was indestructible.
Chevys were made of chrome and elbow grease, houses were made of brick and steel, and men were made of brawn and mustaches.
Here to bring back a little of that old-school kick-ass-ery are the new
1000 Mile Boots
from classic workwear company Wolverine, made in the USA, and just arrived for purchase in the city.
Reimagined from the original 1914 Wolverine 1000 Mile Boots that were staples for grizzled factory workers and blue-collar laborers all over the land, you'll appreciate that these new foot soldiers are updated to accommodate your marginally more refined—but no less grizzled—pursuits (like mixing extra-dirty martinis).
Made with leather from Horween, the same Chicago tannery that provides the leather for every NFL football, the 1000 Mile Boot is the kind of old-school, handmade piece of work that just makes sense around the 4th of July (like firecrackers, cans of Bud and Lindsay Lohan). They're even Goodyear welted, so you can replace just the sole after a little wear-and-tear without ditching your broken-in boots.
While these lace-ups should last you well past the point where you'll be spry enough to actually wear boots, Wolverine is also putting out a few other retro-leaning boots in the 1000 Mile Collection over the next few months called the
Garrison
, the
Gentleman
and the
Gentry
.
The Zookeeper, the Tax Attorney and the Assistant Manager are all way down the pipeline.