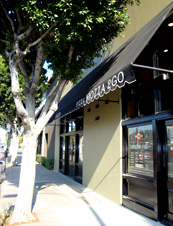 It's Friday. We're feeling feisty.
So we're just going to go ahead and float a whisper. A rumor. A once-in-a-lifetime, rend-your-garments-in-ecstatic-anticipation kind of rumor.
And that rumor is:
Mozza 2Go
, the third outpost in the Melrose-and-Highland empire, just might be opening Tuesday.
Now, we understand that, ordinarily, take-home and delivery places aren't what fill up your calendar days in advance. But when we're talking about the new sibling to Pizzeria and Osteria Mozza—probably the most famed spots on our coast—well, you might have to start instituting their notorious one-month-in-advance reservation system over at your place.
Here's what we can tell you. You will be able to order pizzas you know and love, like the
Margherita
, the
Funghi Misti
and the
Fennel Sausage
. There will be
Nancy's Chopped Salad
. There will be salumi and olives and
Eggplant Caponata
and
Olive Oil
Braised Tuna
. The only difference is, now you can eat it on your couch while watching
Family Guy
. Or
Hung
. If it's any good.
And there also exist reports of a
Scuola di Pizza
, a sort of private kitchen that could work for cooking lessons, tastings and wine-soaked private parties.
Just a heads-up, though: you'll have to put on pants.