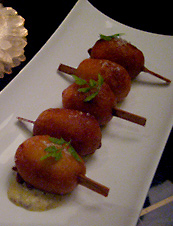 Oh, the humble corn dog, that most satisfying member of the meat-on-a-stick club.
But, like any of its protein-laden brethren, there's always space for improvement. Or in this case, an entire reimagining courtesy of the most luxurious of seafood…
Introducing
Lobster Corn Dogs
, the gold standard of carnival food, now available at La Marea at the Tides South Beach.
This bold pairing is the visionary work of the hotel's new culinary wizard, Gonzalo Rivera Jr., having honed his skills in the kitchens of Michael Mina, a man who knows
a thing or two
about dressing up comfort food.
For these deep-fried wonders, Rivera creates a Maine lobster mousse spiked with shrimp and fennel, and fashions it into a dog. He then coats and batters the pup in a sweet polenta casing and fries it to perfection. Each one is about three bites in length, and by the time you're finished, you may wonder why you've spent so many years suffering through inferior versions of this sweet, crispy oceanic delight.
But ignore such thoughts. Sit back in one of the dining room's toffee leather booths and order up a plate of these along with a glass of boutique wine.
We recommend New Zealand's Dog Point Sauvignon Blanc.