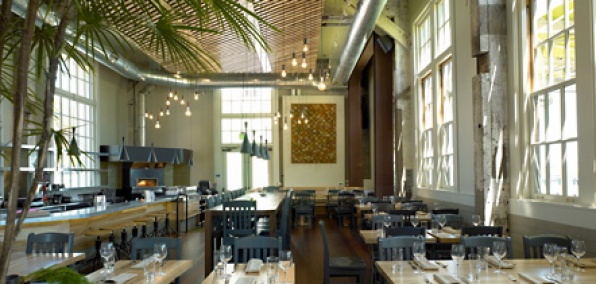 The general rule used to be: the better the view, the worse the food.
And we can only appreciate the irony of that now as tasty spots like
La Mar Cebicheria
and Epic Roasthouse are starting to populate our long-ignored waterfront.
Here to help the cause:
The Plant Café Organic
, your new bay-side watering hole and organic restaurant outfitted with an airy Cass Calder Smith (La Mar, Terzo) design that's sort of…Finnish sauna meets Tokyo airport, opening Thursday under the Bloomberg offices at Pier 3.
While you might have already gotten your morning cup of Blue Bottle coffee at Plant's just-opened café across the way, you'll want to remember the restaurant when you're looking to close a few deals over
Shiitake Spring Rolls
and
Naked Dumplings
(purely professional, of course) at lunch.
When the sun goes down, though, is when things start to get interesting. Take advantage of the full bar and order a round of
Honeycomb Coladas
garnished with hearth-toasted coconut, then kick back with a dozen Miyagis on the half-shell or an artisanal pizza on the patio overlooking Treasure Island and the Bay Bridge.
If the ten heat lamps aren't hot enough, move indoors where the reclaimed wood details and the decidedly green-friendly air plant installation hanging on the far wall still make you feel like you're outdoors.
Perhaps in that sauna with some leggy Finns...