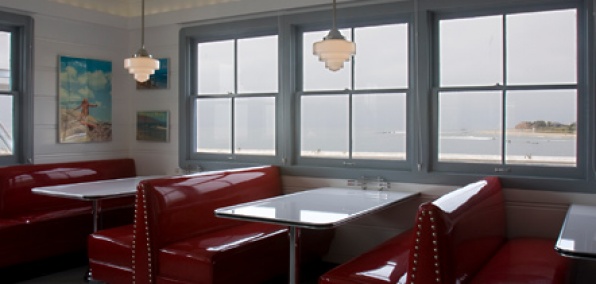 At the end of a brutal week, sometimes you just want to take a long walk off a short pier.
Which is actually a pretty good idea in Malibu, where the end of the pier now boasts a sun-dappled ode to classic burgers and decadent milk shakes.
Ruby's Shake Shack
opens Sunday to pull you back from the brink.
You'll find the
Guacamole Burgers
and
Peanut Butter Cup
Shakes
in a beacon of Americana perched directly over the waves—far past the agave margaritas at
Malibu Pier Club
. Where maybe you'll drop in on the way back.
There's a quick takeout window if you're in a hurry to fuel up and hit the waves, but the '40s landmark has plenty of outdoor seating and some retro red leather booths inside, if you came all this way to get out of the sun. (You're nothing if not unpredictable.)
In addition to other pre-cardiology-advancement fare like chili dogs and grilled-cheese sandwiches, they've also got some secret menu items like a
Beach Burger
and a
Malibu Mud Pie Shake
. So top secret, in fact…
They told us to tell you.
Note:
Open June 28, 11am-4pm, with free burgers and shakes; open 8am-9pm daily thereafter