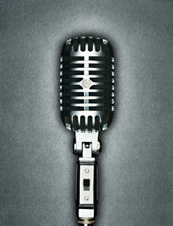 Look, we're not saying you're not eloquent.  
We loved your toast at the holiday party last year. We're just saying even Obama has a speechwriter. And when you find one you like, well, watch out Gram and Zadie's 50th wedding anniversary luncheon, 'cause here you come.  
Consider yourself introduced to
The Oratory Laboratory
—a new "speech boutique," ready now to help you create a historically significant masterpiece of a sermon—whether that be a wedding toast, business presentation or pet eulogy.  
Started by a New York comedy writer and a British feature writer, TOL will craft you a killer line for the Spigelman Bar Mitzvah after-afterparty, pen the exact bon mot that will for once and all demonstrate your sensitive and caring side to all the bridesmaids (think, "we lost a lot of men out there") and come up with some new ammunition for your fantasy football trophy acceptance speech.  
The process begins with a short questionnaire about the speech target to help them get started, then you choose the length (one minute, three minutes, windbag), and they get to composing your first draft. From there you provide feedback, go over details and even run through the speech in person with the TOL team to make sure your delivery is on point.  
And if you get nervous, just picture them naked...