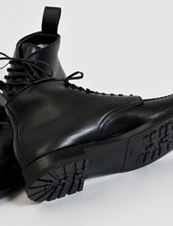 There's a whole lot of crazy happening in the world right now—total economic meltdown, protests in Iran…whatever's going on with Jon and Kate.
But when the going gets tough, the tough get going—and they don't wear canvas sneakers while they do.
So allow us to tell you about
Alden + Context Tanker Boots
, a new line of handmade, damn-near indestructible boots, the likes of which haven't been made since World War II.
We mean that literally: the design was last used to outfit American soldiers' feet during the Second World War (and World War I before that). In other words, these should get you through your morning commute—whether dodging enemy fire or the occasional spilled latte. And while shoe nerds will geek out over the details—the skin on the toes is hand-stitched; each pair takes 78 days to make—you'll just appreciate having some handsome (and surprisingly comfortable) new footwear for your summer adventures. (We're seeing a flask of bourbon, a sleeping bag and some comely tentmates.)
Of course, that's what happens when one of America's oldest shoemakers (Alden) teams up with one of America's coolest stores (Context). For now, only 37 pairs are available, though we hear reinforcements might be on their way.
Because tough times call for tough shoes.