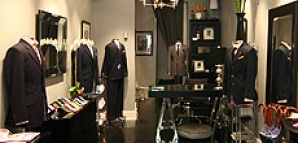 You're dashing, sure. But you're also a bit cheeky.
Which is why we think you'll appreciate
Lord Willy's
, the new men's shop in the West Village.
Lord Willy's does formal English tailoring with a playful twist. (Think of it as two parts Cary Grant, one part Hugh.) It's formal in the sense that you have to buzz in at the door; it's playful in that its company emblem is a man in a jacket and tie with no pants (fortunately, they don't recommend this look for you).
The West Village store is actually the second installment of Willy's—but unlike the flagship in Nolita, this one carries almost entirely ready-to-wear items, such as:
Shirts: Made with English/Italian/Swiss cotton, the shirts feature tall, stiff collars (so they'll always stay above your jacket collar), three-button cuffs and a shorter cut so you can wear it untucked.
Blazers: With only 100 made per season, the "limited edition" blazers—distinguished by saddle stitching down the back—are truly limited edition.
Ties: As an homage to London fashion circa 1960, the silk ties have an "LW" insignia on the front; on the back, a message says, "Get Knotted!"
Of course, you can also get measured for one of the brand's bespoke suits—characterized by a slim, classic fit that will likely have you standing a bit straighter. Or, as owner Alex Wilcox puts it, "They'll give you another inch."
Considering the name of the shop, that's quite a promise.