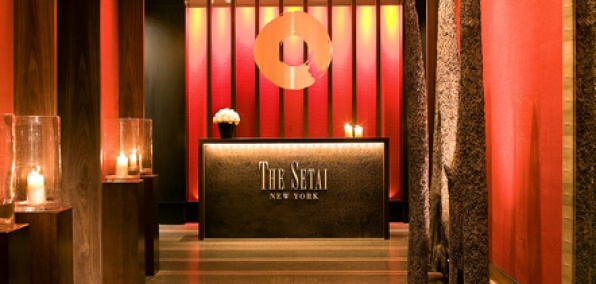 Summer is being stubborn.
And since Mother Nature is refusing to bring any sunshine-related goodness our way, maybe it's time to call in a little help from our friends in Miami.
Welcome
The
Setai Club
—the new outpost of the legendary Miami hotel/condo/restaurant/member's club/recording studio—in all of its chic, champagne-fueled Zen lavishness to downtown New York, accepting membership applications now.
Think of Setai as a new member's only social club for the Wall Street set—but rather than following in Norwood's arty scene or Soho House's playful energy, Setai is built as the kind of multi-roomed, Asian-flavored Wall Street escape you'll want to frequent for power breakfasts, midday martini-tinged dealmaking and a little post-work relaxation.
If you decide to plunk down the extremely scant 5000 clams for your annual dues, you'll be entered into a world of Asian luxury complete with more than a few perks: gratis daily breakfast and regular member parties, a number of complimentary Zen spa treatments at the Setai Spa, membership and training at the Setai Fitness Studio, and a private member's lounge and bar carved out of
SHO Shaun Hergatt
.
And just in case you feel like you want a little bit more, there's a 24-hour worldwide luxury concierge that will oblige some of the world's toughest gets, like tee times at St. Andrews in Scotland and access to the closed-to-the-public Sphinx's paw in Egypt.
Which we hear is lovely this time of year.