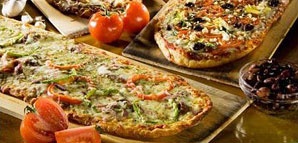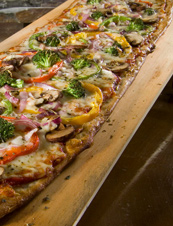 If the world were to end tomorrow, your last meal would probably be…pizza.
But it's not ending. And eating pizza might just be what's keeping it spinning—
Pizza Fusion
opens Tuesday.
Like most world-saving organizations, this one takes residence in a covert compartment of an unassuming Santa Monica strip mall. Inside, the countertops come from glass bottles (see, those Coronas didn't die in vain), the biodegradable utensils are former spuds and, yes, your delivery arrives via hybrid.
Drop in on the kind of day when you two just need a stretched-out, ovular pizza to take home—but maybe also a couple beers while you wait. (They're gluten-free, of course.) All the toppings are eco-responsible in addition to being, you know, flavorful—the pan-roasted steak comes from veggie-fed cows, the
porcini mushrooms are organic and the soy cheese will please
the PETA-loving vegan in your life.
Plus, bring back the delivery box for recycling, and you'll get a discount next time.
Probably don't do it in a Hummer.