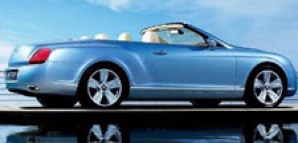 Earning bank is hard. Spending it can be just as difficult—which is where The Blow List comes in...the best, most ridiculous yet necessary ways to blow your stash.
Spring has sprung. Which means it's time to hit the road.
Last time we brought you the
Classic Car Club
, they were just getting warmed up (read: they only had two Ferraris). Well, things have changed. The club has gotten bigger, the owners' adrenaline fetish has grown more pronounced, and the cars have gotten better.
Just introduced, the
Carbon Fiber Collection
is like the Dean's List of CCC (but way less studious). A sort of club within the club (or guy behind the guy), the collection includes 16 cars (and counting), each with an average price tag of $220,000. Membership is restricted to 100 (they're already halfway there) and all members must take a performance driving class before getting behind the wheel of the fleet (not just anyone can be entrusted with wheels like these).
Speaking of the fleet, there are two Ford GTs (with a face-melting 550 hp), two Lamborghinis (a 520 hp Murcielago and a Gallardo), an Aston Martin V12 (480 hp) and a Ferrari F430 (Daytona interiors, F1 gearbox and—of course—carbon fiber dash).
As always, there are no maintenance, parking or, most important, insurance fees. And membership gives you 24-hour access to the garage and its Club Room, a private lounge with self-serve bar, 52-inch flat screen and, we're told, very little in the way of discretion.
Meaning, what happens in the Club Room stays in the garage.