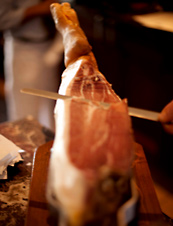 You've had
bacon in your latte
,
spreadable salumi
and a few
bacon-wrapped hot dogs
, so when it comes to the topic of pork and all things pig-related, it's becoming increasingly difficult to wow you.
But that doesn't mean we won't try…
Recently we stumbled upon a dish so simple and beautiful, that you might find yourself wandering over to Sausalito just for one sublime slice.
Enter Poggio's off-the-menu
Prosciutto Fatta in Casa
, currently available and sliced to order at the bar.
First some credentials: as of last night, Poggio chef Peter McNee can be referred to as Cochon 555 Prince of Porc—meaning he takes his pig seriously, including doing all of the pork labor in-house. Butchering a locally raised Duroc pig (known for its fat-marbling goodness), McNee massaged it with sea salt for weeks, then left it to cure for 13 months (according to Italian tradition a year will do, so he threw in an extra month for good luck) leaving a sweet, melt-in-your-mouth tenderness.
You can imagine why McNee might be hesitant to get the word out, so don't expect to find it on the menu, let alone be able to order it anywhere but at the bar. Just ask for Tony, who'll come out with his long, serrated knife and carve your plateful thinner than the best meat-slicing machine.
So skillfully, that you might wonder if his last name is Corleone.