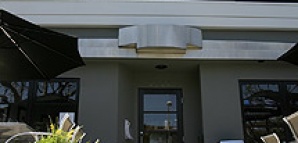 When it comes to
hot cheese
, word travels fast.
So you may have already gotten a memo about
Meltdown etc.
, the little grilled cheese sandwich spot opening today in Culver City
.
Still, you're not ready to anoint it your new go-to lunch spot without getting a few more answers. Here's what you should know.
Launched by first-time restaurateur Ryan Afromsky, Meltdown offers a slew of toasted sandwiches—but unlike Mom's creations, they've got a bit of an upscale bent. The menu from consulting chef Wendy Jacobs-Riche (Wolfgang Puck's
Chinois on Main
) includes such moderately complex offerings as the
Turkey Melt
(brie, turkey breast, arugula and cranberry-horseradish on walnut bread) and the
L.A. Chick
(herbed goat cheese, grilled free-range chicken breast and spinach on wheat). Even the shop's straight-arrow option,
Classic 3 Cheese
, elevates the childhood staple with sharp cheddar, Muenster and fontina on sourdough. (And contrary to what you might've heard, American cheese on white bread is not available.)
So your trip to Meltdown—which for now is open weekdays from 11 a.m. to 3 p.m., with weekend hours, breakfast and delivery coming soon—should go like this: Order at the no-frills metal counter, grab an imported glass bottle of Coke from the fridge, then down your sort-of-fancy melt on the sidewalk patio.
Did someone say summer?