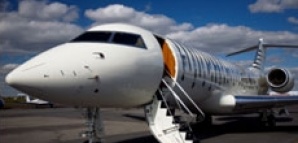 Owning your own jet is definitely on your personal to-do list—but quite frankly, who has time for all the paperwork?

To travel like a media mogul without the army of lawyers required to purchase your own Boeing 757, consider Jumpjet.

Arriving just in time for your summer travel plans, Jumpjet is the first company to offer private jet travel for about the cost of first-class airfare. For an initial fee of $500 and monthly dues starting at around $2,000, you can schedule two roundtrip domestic flights per month (international flights begin in August)—and you can bring up to three guests aboard at no extra charge (after all, if your friends can't come, is it really flying?). To reserve, call Jumpjet 5-14 days before your departure and they'll match your itinerary and party size with an appropriate crew and aircraft—they have everything from a 5-passenger Citation One to a 16-passenger Falcon 900. Unless another member is headed to Aspen the same day you are, you'll have the jet all to yourself.

There's no lengthy security procedure, and no two-hour waits at the gate (your cab can pull up at Teterboro 15 minutes before takeoff). Plus, having your own luxury cruiser means the end of trapped hours with long-winded middle managers from Detroit—and the start of some quality time with a few more intriguing options.

Like, say, bringing on board all the 26-ounce liquid containers you want.