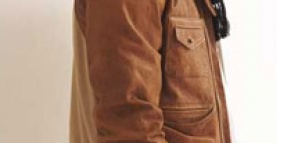 When it comes to fashion, sometimes you feel like you're stuck between a rock and a hard place—ultra-classic (read: boring) and ultra-trendy (read: more studs and embellished eagle wings than you can reasonably endure), with not much in between.

Which is why it's nice to find that rare designer who recognizes this, and actually wants to give you something else. The new 3.1 Phillip Lim collection for men is all about class riddled with imperfection (we like him already).

Lim, whose women's line has been insanely successful, didn't really have the intention to start a men's line—he was wearing a few items he made for himself when Barneys saw it and wanted it...so he thought, "Why not?" The result: threads that are at the same time luxe but quirky, and can work straight from conference room to Soho House without your getting any strange looks at the door. Check out the soft-as-butter Cotton V-Neck Tee with (yes, believe it) reverse French seams, and his popular khakis or Scout Pocket Trousers. For fall, we like his Draped-Neck Pullover in extra fine merino wool with an oversized slouchy chest pocket (perfect for holding your Blackberry...or a smallish hip flask on tougher days).

Coolly eccentric—just what your parents always hoped you'd grow up to be.