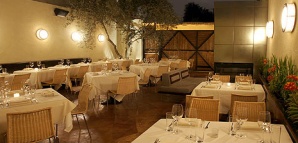 Finding that ideal date spot can be tough. You know she wants the white tablecloths, but you wouldn't mind the night ending in a tequila shot or two.
Which is why we were pleased to discover
The Foundry on Melrose
, opening tonight, a chic spot that takes the stiff edge off fine dining.
Inside, the space has a cozy 45-seat dining room complete with a mahogany bar, vintage sconces and a grand piano. The prime seats, though, may be those in the garden dining room, an intimate terrace out back—take shade under their olive tree, or warm up by the three-sided glass fireplace. The menu is simple and date-friendly—there's not much room to go wrong with only five apps and five entrees, ever-changing as inspired by chef/owner Eric Greenspan (
Patina
). Try the
Bacon Wrapped Scallops
or the
Beef Short Ribs with Cheddar and Pickle Hash
(sounds like a new hash we could definitely get used to).
And to keep things light, Christopher Dowd, formerly of '80s band Fishbone, will play piano nightly and perform with his jazz band after dinners on the weekends. And, in maybe the most odd and brilliant fine dining move ever, The Foundry will eventually give patrons a chance to tell their favorite tequila stories to the crowd in exchange for a complimentary shot.
If that doesn't say "perfect date," then we don't know what does.