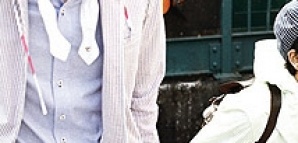 It's about time to bust out the seersucker.

But this season you can swap those trousers for something a little more your speed—say, a hoodie.

Consider Unruly Heir, a new line of street-meets-Nantucket threads from local fellows Joey Goodwin and Curtis Rose. Both enjoy roaming the streets of New York—but are also equally comfortable at a Ralph Lauren Rugby store (where Rose works) or in Palm Beach (where Goodwin grew up). Hence, a line of clothing that captures the eclectic energy of edgy meets "pretentious attire"...coincidentally, just the combination you've been looking for.

We like the zip-up hoodie made out of cotton seersucker—the material alone should let you get away with wearing it to say, your girl's work function at the Ritz (but, honey, this is a jacket). A little flash of the customized lining, which shows old school iconography like violins and butlers, might help your cause. Some clean button-downs, cotton pants and shorts round out the collection, but their tour de force accessory might be their quirky Duke of Windsor-style bowties with silver-plated sliders—reversible, because as we know, non-reversible bowties are just impractical.

Seersucker and bowties...let them call you pretentious now.