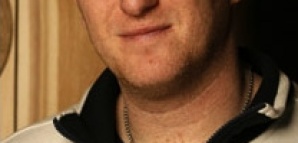 Sometimes it's OK to keep things simple. That's the lesson you gain from a conversation with Michael Rapaport, the lovable, thick-accented New Yorker who, rather incredibly, has appeared in some 70 productions since bursting onto the scene in 1992's
Zebrahead
. Here, the native Upper East Sider talks sandwiches, baseball and New York real estate.
UD: Where do you like to eat in New York?
MR:
Different sandwich places. There's a place in Astoria, Queens called Sandwich King that I love. I get a sandwich called The Bomb. I love this Puerto Rican restaurant on Eighth Avenue,
La Taza de Oro
. Another place I like is this restaurant on Prince Street in Soho called
Olive's
. I always get the special sandwich of the day.
UD: Do you ever go anywhere more upscale?
MR:
Nah. That's not really my thing.
UD: What are your favorite New York bars?
MR:
I don't really go to bars. I've never been interested in it. I go to sports bars sometimes with my friends, but I don't drink. I never have.
UD: If New York were a woman, who would she be?
MR:
That's a good question. She'd be a combination of Gena Rowlands, Rosario Dawson and Venus Williams.
UD: Yankees or Mets?
MR:
I'm on the fence right now. I'm sick of the damn Yankees. That's been my team my whole life, but I'm really just sick of the whole thing with them—buying the team instead of developing the team. I'm tired of it, and it's catching up with us, I think.
UD: You also own an apartment building in New York. Do you enjoy being a landlord?
MR:
Not particularly. It's not as easy as one would think, especially when you're out of town a lot. It's a lot of headaches.
UD: Two years ago you semi-famously evicted actress Natasha Lyonne. Was she your worst tenant ever?
MR:
No, I got a guy in there now who's far worse. I'm about to go to trial with him. I didn't think it could get worse, but it got way worse. A real piece of sh*t I got in there now.
UD: Speaking of real estate, what's one area in New York to watch out for?
MR:
If you keep your ears to the ground, you can get some stuff out in Brooklyn that I think is exciting. But I'm not an expert, you know what I mean?
UD: How has the city changed in your lifetime?
MR:
I think the whole city has changed for the better. Even Times Square—it's totally watered down and people are like, "Oh, I like it the way it used to be." But no one used to come there the way it used to be. It used to be like frightening to go there. So what if it doesn't look like it did when they shot
Taxi Driver
?
UD: Is there any place you can't stand?
MR:
I don't really like Fifth Avenue in the 40s and 50s, the whole midtown trap. It's just too damn crowded, man.
UD: Any particular clothing shops in New York you like to go?
MR:
There's a place in Harlem called
Everything Must Go
. I like to buy stuff from there. They've got really good t-shirts and sweatshirts and quote unquote urban wear.
UD: So...New York or LA?
MR:
If I could move to New York and still maintain the amount of work that I have, I would leave Los Angeles and wouldn't think twice about it. If they said, "You never get to come back to Los Angeles and you have to walk to New York," then I'd start walking. It might be tough with the kids, but we'd give it a shot.
UD: Should we expect any cliffhangers in the season finale of The War at Home?

MR:
Yeah, we definitely have an interesting cliffhanger. I say that I'm going to get a vasectomy, my wife says she's going to get her tubes tied, and then we have sex. And comedy ensues because things didn't really go down the way we said they would.
UD: Some of your characters have been less than bright. Does it take a smart man to play a dumb guy?
MR:
I have to say yes. Because people actually think I'm dumb. I think it's something about the way my face is shaped. I look a lot dumber than I am or a lot tougher than I am, and I'm really neither one.
UD: We still think you should have ended up with Phoebe on Friends.

MR:
Me, too, man.