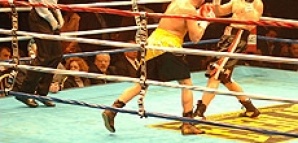 Yes, your woman may have taught you by now to appreciate the second aria in La Boheme, but sometimes you deserve your own version of dinner and a show.

May we suggest Box NYC.

Happening next Thursday, Box NYC is part boxing match, part fine dining, part casino, part fashion show—all rolled up in one at the Hammerstein Ballroom for some class. The night kicks off for VIPs with hors d'oeuvres and cocktails, then continues with a fine steak dinner. By 8, the bell sounds on the first of seven pro fights, staged in a boxing ring in the center of the room. Watch the blood fly or, if you're a gentler sort, partake in a few rounds of Texas Hold 'Em in the casino downstairs—bluff your way through a few hands against celeb attendees like Billy Crudup and John McEnroe. ("A pair of twos?! You cannot be serious!")

If you feel like a breather from the gambling and blood sport, step outside for a sampling of CAO cigars and Glenrothes Scotch at the outdoor stogie bar. And right before the night's featured fight, models will showcase the latest and greatest in undergarment releases.

And they say you can't have it all.