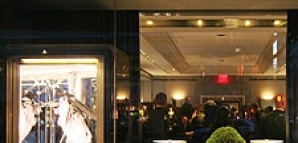 Sometimes you want it all.

Consider Tom Ford. As ten-year creative director at Gucci, he had his fun using low-slung trousers and overstated sportswear to revitalize the company. (Sales in 1994: $230 million. Sales in 2003: about $3 billion.) Now 45, the designer has turned his attention to classic suits, impeccable service...and cowgirl money clips.

Behold: the Tom Ford store.

Opening tomorrow on Madison Avenue, the Tom Ford store is best described as luxury on crack (very, very good crack). Step inside the two-story, 9,600-square-foot shop and you're greeted by a smiling hostess (behind a gold crocodile reception desk) who will call you "Sir." Browse the ready-to-wear suits (which start at $3,000), shirts and cuff links on the lavish, suede-walled main floor amid beaver-pelt rugs, ebony woodwork and maids in traditional English uniforms fluffing cushions and dusting. Venture downstairs and you'll find a copy of Ford's house in London, complete with furniture plucked straight from his home (note the self-inspired scratch marks).

If you've made an appointment, you can move upstairs to the private fitting salons, where two tailors and five seamstresses are ready to assist with made-to-measure suits, handmade in one of Ermenegildo Zegna's top factories and featuring discreet touches like functional buttonholes on jacket sleeves and pockets for your BlackBerry (who knew Tom was so practical?). You can even ask the on-hand butler to fetch you a Diet Coke, croissant, sushi or anything else you might desire.

Like maybe a cowgirl to go with that money clip.