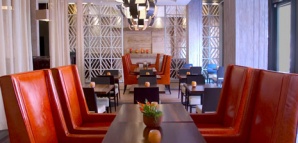 You want to preserve the world as much as the next guy.

You just don't want to downgrade your quality of life in the process. (And your Hummer lease isn't up for another eight months.) What you need is a little earth-conscious inspiration. Presenting: Abode Restaurant & Lounge.

Opening next Wednesday in Santa Monica, Abode is your new eco-friendly hangout on the Westside. To lessen any pent-up concern that you're not doing your part to save the planet (thanks, Leo), Abode's owners have gone to great lengths to build their restaurant in the most environmentally friendly way possible. You'll dine on tables made of black walnut taken from sustainable forests. You'll lean on walls covered with natural travertine and recycled 200-year-old barn beams. You'll even unwind in front of waterless urinals in the bathroom (we're not sure what that means, but feel free to drink up).

At the same time, you won't feel like you're stuck in a granola den. On the outdoor courtyard patio, you can sip cold cocktails made from freshly squeezed organic juices and rose water—or relax in the lounge on leather couches (made without any chemicals, of course). And the rotating menu from Chef Dominique Crenn, which includes such delectably un-vegan dishes as cider slow-cooked Pork Osso Bucco, Wagyu Beef Tartare and Lobster Spring Rolls, uses mostly organic ingredients from SoCal farmers.

By the time you walk out, you won't even feel bad that you never saw An Inconvenient Truth.