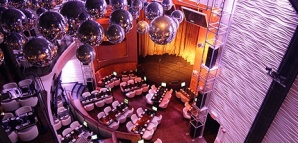 You've been thinking lately, there's just one thing this city's been missing. A giant 23,000-square-foot, four-story karaoke bar.

You can finally stop your searching. Spotlight Live is here.

Opening Friday in midtown, Spotlight Live is your overblown karaoke extravaganza to end all overblown karaoke extravaganzas. Like American Idol on steroids, Spotlight is a four-bar audio-visual playground that's ripe for a crazy performance or two. It has five recording booths, almost as many flat screens as disco balls and gourmet comfort food like mini burgers, cotton candy and crispy rock shrimp served in Chinese takeout boxes. From your table facing the main stage, you and your friends can use an interactive touch screen to search through their song library or IM another table ("Loved your bridge on 'My Happy Ending'!").

If you've got an itch for the spotlight yourself, Spotlight will scratch it. After selecting a song, you and your mates are escorted to a VIP area to sign a "record contract." Next, you're whisked upstairs to a posh green room, where you can relax in plush white leather couches with a stiff drink to calm the nerves. Finally, you're delivered to the mega-stage, where professional backup singers help accentuate (or even drown out) your tunes, which get streamed live to the web and showcased on a 25-by-40-foot Jumbotron in Times Square.

Your fans await.