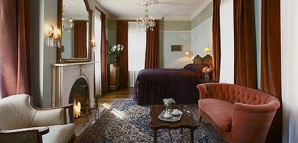 Nothing says romance like a charming B&B in the country. Or so we've heard.

But if you're the type of man who likes to experience his pastoral pleasure on the quick—i.e., without leaving the island—may we present the Lafayette House.

Tucked between Bowery and Lafayette in the East Village, Lafayette House—the smaller, quieter new release in Bowery from Maritime players Eric Goode and Sean McPherson—is your calming rewind to a pre-digital age. Step inside the five-story brick townhouse and you'll quickly forget that it's 2007, let alone the fact that you're just a few feet from smokers outside the adjacent B Bar. While each of Lafayette's 15 rooms is decorated differently (19th-century whiskey bottles, expensive English marble and, presumably for the ladies, porcelain doll heads), each contains a working fireplace and hand-picked furniture from nearby antique stores. (You'll want the room with a patio and garden or the one with the terrace.)

But don't think a trip to the LH means you're completely trapped in an episode of Little House on the Prairie. Goode and McPherson have countered the Reconstruction-era ambience with modern conveniences like flat screen LCD televisions, iPod docks, 500-thread-count linens and fully stocked mini-bars.

Because while historic digs are great and all, a guy still needs his Sopranos.