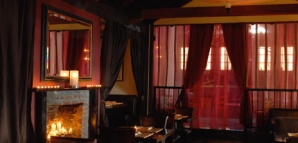 Sex sells, as they say.
But does it sell sushi? If the new
Hadaka Sushi
restaurant is any indication, definitely.
Edward Brik, formerly of
Spago
and
Tiger Lily
, has created a French-influenced Japanese restaurant and sushi bar with a sensual vibe and a Parisian bordello look. Dark walls, mood lighting, oil paintings of the female figure, and cocktail tables that literally spell out S-E-X are just the beginning at Hadaka (the Japanese word for naked).
Waitresses donning uniforms straight off the Moulin Rouge wardrobe rack can help you choose between the "nice" menu or the "naughty" one. The food's the same, but a tuna tempura roll called the
Swinger
on the nice menu suddenly turns into
Glory Hole
on the naughty. The salmon skin
Afterglow
roll becomes a
Muff Diver
. Well, you get the idea.
A private room (look for the "Adults Only" neon sign) can be reserved for a yet-to-be-determined minimum charge. Inside, seating is on the floor, and the room is stocked with blindfolds and handcuffs, but not a lick of silverware. The room's XXX menu features such explicit terms that it may actually get ordering dinner banned by the FCC. But before you rush to book it, just make sure you're cool with saying, "I'll have Rusty Trombone and my girlfriend will try the Finger Bang, hold the avocado." Upon special request and for an additional fee, Hadaka can arrange for those boring old ceramic plates to be swapped for a model wrapped in banana leaves.
You'll never look at rainbow rolls the same again.