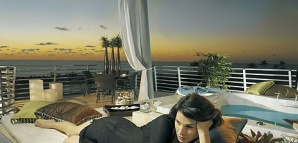 It's late March and spring is still dragging its prissy little feet in New York. Instead of sitting idly by while Gotham gets its meteorological act together, we say head to a spot that's already thwarted winter—South Beach—and check out the new and relentlessly lavishing Regent.

Unveiled last month, the 80-suite, five-story Regent South Beach is a luxury pioneer. It's the first hotel in 20 years to open in the historic Art Deco district of SB; the first hotel to span both of the famed SB boulevards Ocean Drive and Collins Avenue; and the first Regent hotel in the Americas since the brand's resurgence.

But the real draw: your amenities. Stay in one of the RSB's 27 rooftop suites, and you'll have access to two 32-inch LCD flat-screens, in-room spa treatments, a 700-square-foot terrace with Roman hot tub and—in case privacy is required—a retractable roof. You'll also receive a Pocket Butler, which is a mini cell phone with direct dial to hotel chauffeurs and concierge. (It works much better than the original concept: a real butler you keep in your pocket.)

For dinner, move downstairs to the Regent's Table 8 South Beach, the sister resto to celebrity chef Govind Armstrong's trendy Table 8 LA. That's of course after you stop by Table 8's expansive outdoor lounge, where you can enjoy cocktails and tapas from a unique vantage point: beneath the hotel's glass-bottom pool.

And you thought you'd seen every angle of the beach.