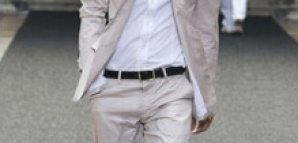 You can't judge a book by its cover. Or its name.
Which is a good thing for new men's e-tail site
Men a la Mode
. Once you get past the shock that this is not a gay male porn site involving vignettes with ice cream, you'll be pleased to discover that you can actually get some decent threads here.
The site is the brainchild of Ali Khan, who wanted to bring equal opportunity to men for purchasing designer duds on the Internet (what a considerate guy). MALM is the first of its kind, stocking only the current season's offerings from top designers (like
Emanuel Ungaro
,
Nicole Farhi
and
Oliver Goldsmith
) that were previously difficult to obtain in one fell swoop without leaving the country, much less your apartment.
The site carries only up-to-date items, from
Paul & Joe
cotton summer jackets to the new
Castelbajac
casual white shirt (although the printed-on tie is more lazy than casual). Which means no more discounted Fall 2005 trouser pants for you (in case public scrutiny was getting a little stressful).
MALM will also act as a launching pad for up and coming designers, such as Milanese Lucchese Pelle, whose luxe leather jackets and accessories are soon hitting the site.
Proving that if a site is useful enough, it can call itself whatever it wants.