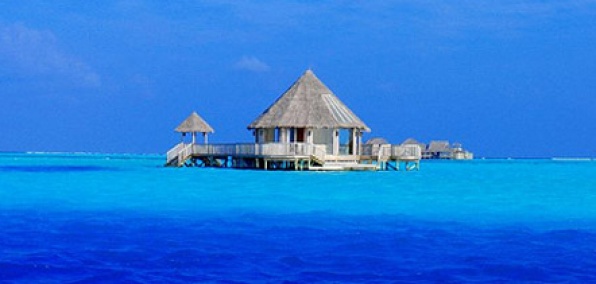 Something about the summer calls up an urge to escape from just about everything in between you and the ocean.

In fact, maybe it's time to do away with land entirely…

Welcome to Angsana Velavaru, a set of luxury suites literally plunked down right in the ocean, ready to officially liberate you from the tyranny of land-based living, opening July 1 in the Maldives and now taking reservations.

Your two-story suite isn't that different from what you'd find in your typical St. Barts' hideaway, only this time it's suspended on stilts...above an underwater reef. From the moment your seaplane touches down, you'll be in strictly aquatic territory, whether it's a waterside hammock suspended above the reef or an infinity pool with a view of the whole southern half of the Indian Ocean.

Of course, you won't be in complete desert-island mode—a boardwalk connects you to a few fellow guests, and an Italian restaurant at the end of the dock lets you get acquainted over a bottle of Lambrusco. And if you venture onto the main island (at the other end of the boardwalk), you can check out a marine lab, grab a Swedish massage or explore the bottom part of the ocean through a guided scuba dive.

In case you want to inspect the foundation.