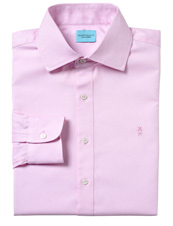 The war between the Hamptons and Nantucket & Co. has been going on for centuries, waged through fiercely fought polo matches, intense croquet tourneys and the occasional lazy-but-handsome regatta. But thanks to Vineyard Vines and Nantucket Reds, the northern islands have always had the sartorial contest locked down….
Introducing
Hampton & Co.
, a new line of preppy gear designed and distributed in the Hamptons, and destined to end your dependence on New England clothiers once and for all, available online starting today.
So the next time you're barreling down the highway on your way to a weekend of brisk, grassy decadence, you can make sure you're repping the Hamptons all the way down to the salmon button-up on your back. And if you get any lip from the Cape Cod contingent…you can work it out on the croquet green.  
Luckily for your embargo on all things New England, you can probably find just about every staple here—including oxford shirts, branded beach towels and bright orange swim trunks—without having to sully your closet with anything that's been on a ferry. The crown jewel is a sailcloth duffel bag, decked out with calfskin piping and lined with gabardine to match your favorite bespoke suit.
We recommend using it for a weekend on Nantucket.