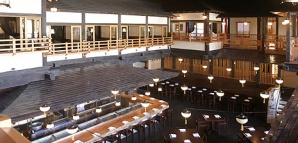 When someone transports a 150-year-old Japanese house, beam by beam, and re-assembles it in Beverly Hills, you know they mean business.

When that business is the stateside debut of cult favorite Japanese restaurant chain Gonpachi, soft-opening tonight, you know it'll be a house worth visiting.

On La Cienega's restaurant row, enter through a 100-year-old gate and into a Japanese zen garden, planted to bloom differently in each season (yes, Angelenos, seasons do exist). Inside, the restaurant is like a giant bento box, divided into sections offering unique dining options. There's a traditional sumiyaki barbeque grill, an intimate sushi bar, and, one of our favorites, a sake tasting room featuring thirty varieties of sake, fourteen of which are exclusive to Gonpachi. The fare is hearty and izakaya-style with rice meals, handmade soba and "kushi"-style skewers like Sweet Prawn with Jalapeno Sauce.

As for the house's secrets, there are seven hidden Japanese characters scrawled on wooden beams, plus a drawing of a geisha girl, all of which were part of the original house. Find them all, say the owners, and you'll be rewarded.

Perhaps they'll let you rent out that sake room for the month.