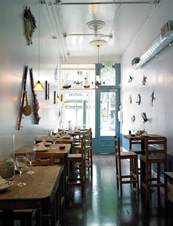 It all started with a taco truck…
Then before we knew it, everybody was eating from carts, bikes and more trucks—only to be followed by the cops cracking down on our prized guerrilla movement. 
And while we love the underground street-food scene as much as the next guy, it might be time to move things indoors again.
Introducing
Marino
—a new sit-down Mexican spot opening next week in Hayes Valley that'll keep you fully sated on tacos while the food police run roughshod over your favorite taco trucks.
You might remember this space when it was Frjtz, or even Mad Magda's Russian Tea Room, but once you're inside it'll feel like you stepped off Mazatlán's Malecón into a breezy oceanside eatery flecked with nautical portholes and anchors on the walls.
Instead of waiting in line and balancing your truck-bought food on your lap, expect all the benefits of table service, like frosty micheladas and chips and salsa, to kill time before your enchiladas show up. If you're inviting the whole gang, put together a few of the wood tables and opt for pitchers of margaritas and a couple rounds of taquitos and quesadillas.
While the space's legendary hidden patio is long gone, you'll be glad to know that they're planning to offer sidewalk seating.
Think of it as combining the best of both worlds.