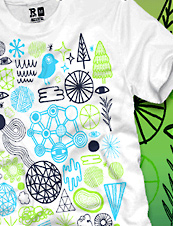 You've always appreciated the wisdom of beautiful women.
So when noted philosopher Heidi Klum dispenses pearls like, "In fashion, one day you're in, the next you're out," you're inclined to believe.
Case in point:
Ript Apparel
, a new website devoted to keeping your T-shirt drawer well-stocked with literally up-to-the minute looks—and taking Mrs. Seal's words to heart.
Every day, you'll be offered one single beautifully designed graphic tee. The catch: each shirt is only available for 24 hours—a ticking clock even counts down the hours, minutes and seconds remaining. (No pressure.) After that, it's gone forever.
Behind the site are three Chicago entrepreneurs whose old pop-rock outfit once opened for a young Fall Out Boy—perhaps providing an appreciation for not overstaying one's welcome. For Ript, they've recruited graphic designers and artists from around the globe to create original works that will be sold exclusively on the site. So while it's too late to buy yesterday's shirt—which, not to rub it in, you would have loved—you can still get in on today's piece, by Montreal graphic designer Maxime Francout. And if Quebecois fashion's not your thing, you'll have 364 more choices by this time next year.
And because the shirts are only $10 each, you might just make this a daily habit.
You're gonna need a bigger drawer.