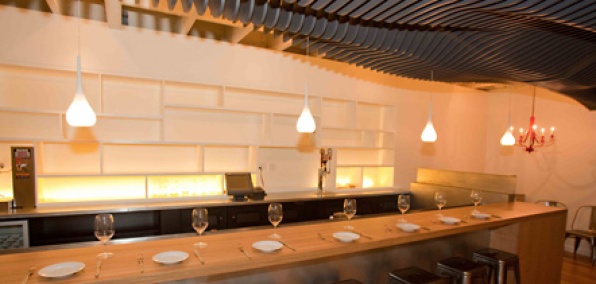 Barbecue is slowly making its way westward.

And since there's no such thing as too many short ribs, we say it's about time.

But in California, even a national treasure like BBQ isn't immune to some tweaks, and while we love us some traditional 'cue, we think we're onto something.

Welcome to Wexler's, a new spot that brings together farm-fresh, fusion and barbecue into one of the most oddly enticing packages we've seen in some time—opening at the corner of Montgomery and Sacramento on Friday.

While you might note the irony that this smokehouse was once a firehouse, you won't get any hint of the former SFFD (no pole, sorry) in the cherry-red chandeliers and the dinosaur-bone-like wooden ceiling installation (think of it as rib inspiration).

Get started on the 15-deep all-American microbrew selection with cult favorites like Alaskan Brewing Smoked Porter and Anderson Valley Summer Solstice then ease your way onto the menu, which is more California than Carolina—instead of pulled pork sandwiches, chef Charlie Kleinman (you know him from Fish & Farm and the Fifth Floor) is serving up Pulled Lamb Sliders dressed in watermelon and chile vinegar. If you crave something heavier, go for a Plate of Pork or, for some bicoastal action, some Smoked Maine Lobster.

And though he's focusing more on dry rubs than smoked meats, you can still order Smoked Short Ribs, washed down with some good old-fashioned sweet tea (spiked, if you ask nicely).

Because that's what Southern hospitality is all about.