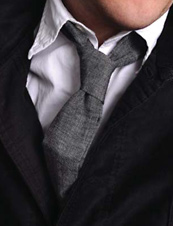 It's summer.
Which brings obligations: Weddings. Dinner parties. And—if you're still employed—that daily chore called work.
And with obligations come…more obligations. Like wearing a tie.
But don't surrender. Instead, use your trademark sartorial flair to deliver a subtle—but life-affirming—f-you to The Man.
Introducing The Hill-Side, your new source for anti-neckwear neckwear. The Brooklyn brand's full collection launches this fall, but we thought you should know that a small supply is going onsale Monday.

These aren't your old man's boardroom warriors. Instead, these ties are made from classic blue-collar fabrics like waxed canvas and chambray—it's a little like wearing Steve McQueen's jacket or Cool Hand Luke's work shirt around your neck. They're the kind of ties Clooney would wear while cavorting around rural Tennessee. (Hey, could happen.)

To create these marvels, the brand's owners scour the globe for the toughest fabrics from the most exotic locations. (Think selvage denim from Kojima, Japan, and waxed canvas from…Jersey.) They're then manufactured in Manhattan, and you handle it from there—just like a good pair of jeans, these are designed to acquire a little patina as they're worn. And this fall, they'll introduce a handful of ties made from the last known quantities of special deadstock fabrics. Think of it as getting a final bottle of a rare vintage of wine.

Go ahead and spill.