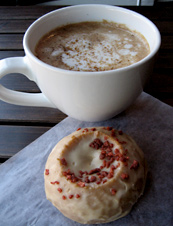 Wednesday…
It's about that time of the week when plain old coffee just doesn't do it anymore.
Now, you need something that has your familiar jolt of caffeine, but a little unexpected zing is in order too.
And that's when we cue the bacon.
Say hello to the
Maple Bacon Latte
—a double espresso latte spiked with organic maple syrup and homemade bacon, sprinkled with Bac-Os—available now at Pirate Radio Café.
Think of this concoction as the Canadian Mountie of coffee drinks. It's a beautiful marriage of two culinary powerhouses: De La Paz espresso beans and organic Prather Ranch bacon—providing an extra kick that'll help you sail into the weekend.
While some might say that bacon has had its moment, it's hard to deny this beloved smoked meat's continued encroachment on the food world. Upon first sip, you'll notice you're drinking a creamier, smokier latte thanks to the homemade organic bacon and bacon-fat mixture that's whisked into the milk and maple syrup, then poured over the double shots of espresso.
If you really want to go all the way, you can opt for the vegan maple bacon doughnut that's custom-made daily by Peoples Donuts to complement the latte.
But that's sort of like ordering a Diet Coke at McDonald's.