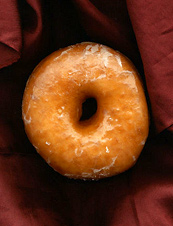 You probably already have plans for Friday.
You probably want to cancel those plans.
Because in tribute to the most revered of holidays, one esteemed Beverly Boulevard restaurant is unleashing a decadent feast not quite like anything you've ever experienced—welcome to
National Doughnut Day at Grace
.
The restaurant is, for one night only, outdoing itself with a three-course tasting menu. A tasting menu made only of doughnuts. Doughnuts paired with wine. Yeah, we'll see you there.
Your appetizer for the evening: a
Salted Caramel Doughnut,
with bourbon-pecan ice cream and strawberries. Entrée:
Pistachio Doughnut
, with chocolate buttermilk marble ice cream and dried cherries. And for dessert—at this point, you'll obviously be craving something sweet—
Buttermilk Brown Butter Glazed Doughnuts
, with warm rum-spiced milk.
For this special occasion, sommelier Eduardo Porto Carreiro has matched each course with three thoughtfully selected bottles from Piedmont, Portugal and Bordeaux, each intended to take your indulging to heights never before attained in the doughnut world.
Despite your extensive research.
Note:
<a href="http://www.gracerestaurant.com">National Doughnut Day at Grace</a>, $18 (wine $15 extra), June 5, 323-934-4400