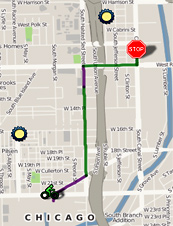 The weekend forecast is calling for warm weather and sunny skies, which means, in addition to the debut of your favorite summer shorts, summer shirt and summer beer, it might be the perfect time to launch your exciting summer bike ride through the city. (After all, the press is waiting.)
And we've found something that may help:
RideTheCity.com
, the best new way to get from Point A to Point B atop a bike seat, launched this week.
Started by a couple of NY cyclists with a knack for urban planning, the site is basically MapQuest for bike riders. Simply tell it where you are and where you want to take your 28-speed Cannondale, and it'll give you step-by-step instructions and a detailed visual on the safest, smoothest bike route, complete with as many bike paths as its database can muster.
And because the site has heard that you sometimes like to play things safe, whereas other times you like to roll the dice in the interest of time-saving, you can search by "safe route," "safer route" or "direct route." (We could've used a "safest route," but it's cool.)
Another feature you'll really like is the ability to drag and drop a couple of icons to create your starting point and end point, rather than typing in addresses.
Which can take, like, 14 seconds.