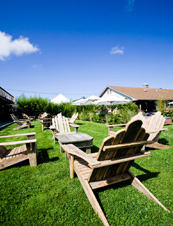 Sometimes a party gets so out of hand that it needs a vacation from itself.
For the last few months, the Wednesday night party at Chloe has been a monster—Jameson-soaked downtown revelry, complete with dancing
models, drunk editors and lots of Ray-Bans.

It decided to take the summer off.
So we did too—and went to the crashing waves of Montauk. And look who we ran into...

Welcome to the new incarnation of party night, The Ivy, landing poolside in Montauk at the Solé East hotel this Saturday afternoon, and turning that mother out select Saturday afternoons this summer.
 
Where other, tonier clubs and parties down the block feel like Gossip Girl location shoots, consider the Ivy your new downtown antidote to the stuffiness found a little farther west in the Hamptons. So instead of sparklers, house music and models, you'll find tequila, Talking Heads and, well, models (if it ain't broke…).
 
The laid-back, grassy, low-slung Tudor-style Solé East just feels right, too—scattered Adirondack chairs where you can loosen your bowtie and prepare for a lazy, hazy summer evening of margaritas, dancing and at least a few inappropriate cannonballs.

And being the kind souls that they are, the Ivy boys have even put together a party bus (complete with kegs and legs) leaving Manhattan late Saturday morning.
 
Just in case your helicopter is in the shop.