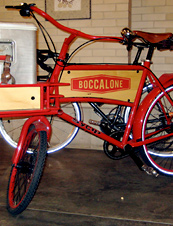 Now that you can get French delicacies from a
truck
, you knew it was only a matter of time before the Italians got into the act.
So, if frog legs on four wheels seem so…last week, hopefully prosciutto on two wheels will satisfy your cravings.
Say hello to
Boccalone's
Salumi Cycle
, San Francisco's first bicycle panini carrier powered by your favorite pork-obsessed meat masters, now delivering to a corner near you.
Think of the bike as a little bit of delicious Italian whimsy to brighten up your workday. At any given time, they'll tweet the intersection of choice (just hope that the location is less than 140 characters), ETA of arrival and the panini selection of the day, then it's up to you to drop everything and head over.
Once the custom-made, cherry-red SyCip rolls up, be at the ready with cash in hand (an exact eight George Washingtons help) because they can only fit about 30 sandwiches (40 if they press them extra hard) in the silver Boccalone cooler—which means they can sell out in minutes. To keep things simple, it's a sandwich-only operation (meaning: no chips, no drinks), so you'll be in and out in no time.
And since the guerrilla stops are meant to be spontaneous, don't count on a set schedule or even the guarantee of a sandwich. There's always the fallback of heading to the salumeria in the Ferry Building if they happen to sell out.
Or you want seconds.