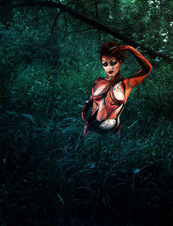 You've always yearned to paint a masterpiece, but proper inspiration—not to mention decent canvas—can be so hard to find.
Maybe you just need to combine the two…
Allow us to introduce the
World Bodypainting Festival
, going down this July in Seeboden, Austria, with tickets on sale now.
The fest is pretty much exactly what you think it is, in the best possible way: you go, and you put brush to the skin of as many scantily clad Austrian lasses as you can find. (Interested in going under the brush yourself? No judgments from us, but be sure to
stretch properly
.) And since even the most dedicated artists take the occasional break, you can sink a few brews while taking in the sweet musical stylings of a dozen or so bands and DJs—many of whom will be (you guessed it) adorned with paint.
Be sure to practice on your friends before you go, so you can skip the festival's how-to workshops for Seeboden's
other attractions
. Think hikes to nearby glaciers, bike trips to something called "healing swamps" and, of course, a hybrid bodypainting session and bungee jump. (Stretch before this one, too.) Finish the day at the elegant
Hotel Moserhof
, where your new friends can wash off all that paint in the handy in-room bathtubs.
And the inspiration cycle starts all over again…