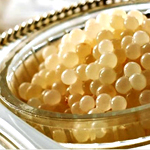 EAT MORE EXTRAVAGANTLY
Fish Eggs. Of the $26,000 Variety.
Some people will tell you caviar is an overrated, overpriced commodity. Those people probably haven't eaten a kilo of coveted Almas beluga caviar from a 24K gold tin with a matching gold spoon. And seeing as you don't really know until you try...