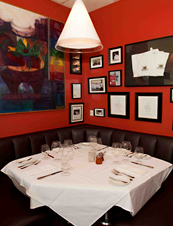 When you have a choice between chef's table and not chef's table, you choose chef's table every time.
Which is why you'll want to add this behind-the-scenes stunner to your weekend roster…
Let us present
One Market's Chef's Table
—a corner booth tucked right in the heart of the Michelin-starred kitchen—taking reservations now.
Think of this table as the closest you'll get to actually sitting in Chef Mark Dommen's own home kitchen—and unlike other chef's tables you may have frequented, you can actually don a chef's jacket and help out if you're so inclined.
To start the night, the sommelier will escort you through the wine cellar to select pairings for each course. Then the hostess will lead you all the way back, past the hot line to the black leather hideaway, complete with views of the Ferry Building and Bay Bridge alongside full-on pots-and-pans action, that'll be yours for the night.
Since you'll have met with Chef Dommen to customize your feast ahead of time, all seven courses will be prepared to your liking and delivered to your table by the chef himself. But if you happen to see a dish you like heading off to some other table—say, the
Bacon-Wrapped Pork Tenderloin
—chances are Dommen will throw in an impromptu taste.
Best-laid plans…